Beth Broadway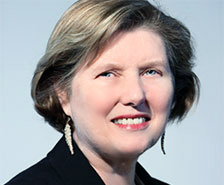 Beth Broadway is the president/CEO of InterFaith Works, a non-profit organization that affirms the dignity of each person and every faith community. Prior to this, Broadway led InterFaith Works' Community Wide Dialogue to End Racism (now the El-Hindi Center for Dialogue) and initiated the annual Duck Race to End Racism.
Broadway is also the designer and facilitator of the Central New York Community Foundation's Leadership Classroom, a program for residents wanting to be active in improving the quality of life in their neighborhoods. Broadway was also the principal consultant on the development of the City of Syracuse's neighborhood planning program, Tomorrow's Neighborhoods Today.
Syeisha Byrd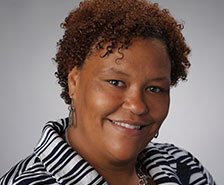 Syeisha Byrd serves as the director of Engagement Programs at Hendricks Chapel. She works towards building relationships and engaging students and staff through service opportunities in the City of Syracuse.
Byrd earned a master's degree in social work from the Falk College of Sport and Human Dynamics. She has served as a board member for the Near Westside Initiative, United Way's community impact committee, and Northside Up. On campus, Syeisha serves on the MLK community celebration committee and is a facilitator for Conversations around Race and Ethnicity.
Sekou Cooke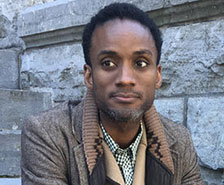 Sekou Cooke is an assistant professor at the School of Architecture, where he teaches design studios and seminars that value breadth of exploration over formulaic production. Cooke holds a bachelor of architecture from Cornell University, a master of architecture from Harvard University, and is licensed to practice in New York and California.
Through his professional practice, Sekou Cooke STUDIO, he brings thoughtful processes and rigorous experimentation to a vast array of project types from commercial and residential works in New York, New Jersey, and North Carolina, to mixed-use projects and tenant improvements in California, to speculative developments in Liberia and his native Jamaica. Through his research, practice, and other academic endeavors, Cooke hopes to leave an equally lasting impact on ivory towers and underserved communities.
Beth Ferri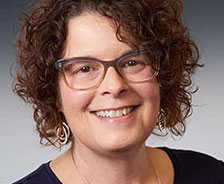 Beth Ferri is a professor of Inclusive Education and Disability Studies, associate faculty in Women's & Gender Studies, and coordinates the doctoral program in Special Education at Syracuse University. Ferri teaches courses in adapting instruction for diverse learners and critical issues in dis/ability and inclusion, as well as doctoral seminars in disability studies.
Ferri received her doctorate from the University of Georgia and has published widely on the intersection of race and disability. Her most recent book (co-edited with David Connor & Subini Annamma in 2016), DisCrit: Critical Conversations Across Race, Class, & Dis/ability, explores the collusive nature of race and disability in education (Teachers College Press).
Tula Goenka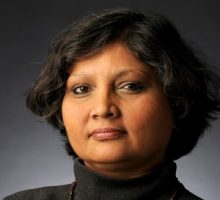 Tula Goenka is a professor, filmmaker, and social activist in S.I. Newhouse School of Public Communications. She teaches courses in multimedia storytelling, film production, and Indian cinema. She started her filmmaking career as an editor for Spike Lee, James Ivory, and Mira Nair, among others. She now produces and edits her own documentaries, including the award-winning PBS film "Dancing On Mother Earth," about singer/songwriter Joanne Shenandoah and "El Charango," about the musical instrument from Bolivia.
Since 2008, Goenka has been the creator and program director of the month-long Bollywood Snapshots: Internships in Mumbai (#SUBollywood), offered through SU Abroad.
Danika Medak-Saltzman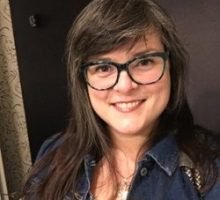 Danika Medak-Saltzman is an assistant professor in Women's and Gender Studies, with a focus on Indigenous Feminisms, Native histories, Indigenous thought and theory, transnational Indigeneity, Indigenous futurisms, and visual culture—including film and cultural production. She is a member and co-founder of the "Just Futures Project," and alongside Iyko Day and Antonio T. Tiongson, Jr. she is co-editor of the "Critical Race, Indigeneity and Relationality" book series for Temple University Press.
In her scholarship, as in her teaching, Medak-Saltzman seeks to reevaluate representations of Native people to underscore how Native peoples have always worked to negotiate difficult situations and visualize/create/manifest Indigenous futures in spite of persistent colonial actions and narratives that mandate Native disappearance.
Anne Mosher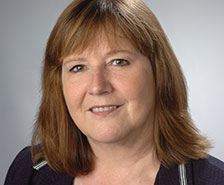 Anne Mosher is chair of the Maxwell Citizenship and Civic Engagement Program and associate professor of geography at Syracuse University. A senior research fellow in the Maxwell School's Moynihan Institute of Global Affairs, Mosher is also a member of New York Public Scholars for the New York Council for the Humanities, a past board member to the Alden Street Foundation, and a volunteer at St. Lucy's Food Pantry on Syracuse's Near Westside. She earned her doctorate and master of science degree from the Pennsylvania State University, attended Lancaster University (U.K.), and graduated magna cum laude from Macalester College.
Mosher's teaching and research interests focus on the history of urban planning and infrastructure, engaged placemaking, crisis and disaster management, public memory as expressed via social media, and interdisciplinary theories of space and place. Mosher's 2004 book, Capital's Utopia, is based on work that won the Association of American Geographers' Nystrom Award for best Ph.D. dissertation research.
Tere Paniagua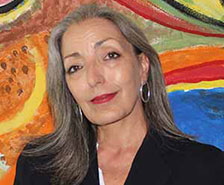 Tere Paniagua is the executive director of cultural engagement for the Hispanic community at Syracuse University's College of Arts and Sciences. She oversees the management and programming of two SU-sponsored off-campus art centers: La Casita Cultural Center and Punto de Contacto-Point of Contact. Both programs are co-curricular portals for cultural heritage research, media studies, Latin American arts, and education programming connecting Hispanic communities on and off the SU campus.
Paniagua is an associate editor of Point of Contact publications and an adjunct faculty at Syracuse University, where she teaches two Spanish courses. She received the 2010 Chancellor's Award for Scholarship and Community Engagement for Hispanic Journalistic Practices.
Julia White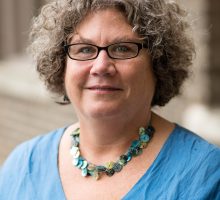 Julia M. White is an Assistant Professor in the Department of Teaching and Leadership in the School of Education, Syracuse University. She directs the interdisciplinary minor in Atrocity Studies and the Practices of Social Justice and is the co-coordinator of the Spector/Warren Fellowship for Future Educators.
She has served as co-chair and secretary/treasurer of the Disability Studies in Education SIG of AERA and as secretary/treasurer, program chair, and chair of the Special and Inclusive Education Research SIG of AERA. With Christine Ashby, she is co-editor of Excelsior: Leadership in Teaching and Learning. Her research agenda includes special educational policy at the national and international levels and inclusive education as a human right, particularly related to Romani students in Central and Eastern Europe and students with significant disabilities.